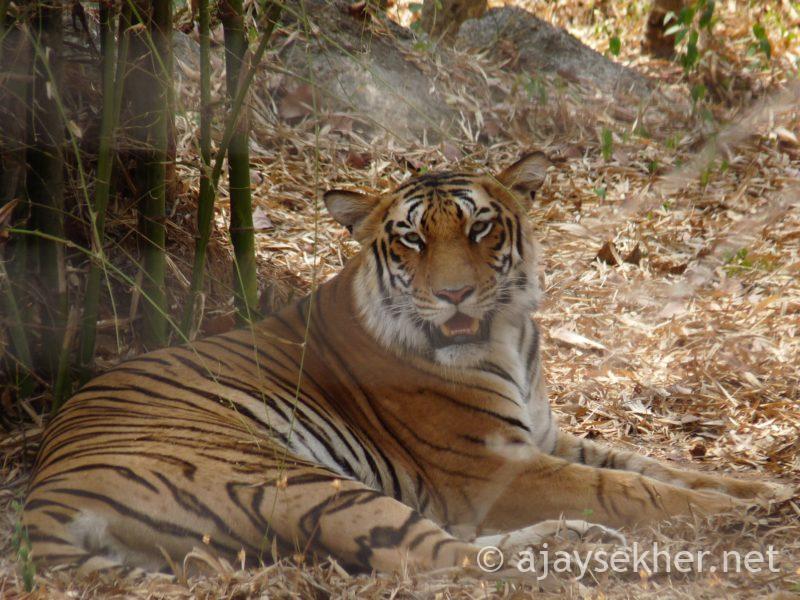 Bannerghatta National Park lies 22 km south of the city of Bangalore at around 1000 m in altitude. Though it is in the state of Karnataka it has historical and geographical linkages with north eastern Kerala and Wayanad in particular. It is part of an elevated elephant corridor connecting Wayanad and Sathyamangalam. The zoological park and jungle safari within the reserve attract a lot of tourists and common folk to this unique wilderness high up in Deccan plateau.
I visited the National Park in the first week of April 2010. The natural history museum within the zoo is really informative and illuminating. There are separate large houses for birds, reptiles, herbivores and carnivores. The wonderful trees and rocks of the zoological garden provide a green, cool, shady and wild ambiance to the area and makes you one with nature.
First we went on a grand safari including the lion/tiger/bear/herbivore circuits. The minibuses operated by the zoo take you to the middle of the reserves where you could watch the kings and queens of the jungle in their natural surroundings in close quarters. We saw a wild elephant near a lake cooling in the mud and shallow waters. Plenty of sloth bears were seen under bamboo groves. We saw a group of lions sleeping under green cover in the scorching heat. An old tiger was wandering around in the bush. Another was chilling off in the small pond. A white tiger was lying beneath a ficus tree as an enlightened spirit of the forest.
After the grand safari we explored the butterfly park and the zoological park. Due to the heatwave conditions butterflies were rare in that noon time of the day. In the large house of the birds we saw plenty of pelicans, painted storks, white storks, night herons and other water fowl. The night herons are even nesting and breeding within the large enclosure.
The joy came when I spotted a blue bird in the bamboo groove that was free and autonomous as we neared the end of the park. I followed it with my camera to the neighboring trees. It was a Tickel's Blue Flycatcher! This cool being was roaming and feeding free within the zoological park. The dark blue head, wings and upper parts and the rufous and whitish under parts were strikingly visible. I was really happy to see this blue flycatcher roaming free and lazy amidst the huge enclosures of the park representing the untamed spirit of the wilderness and the untiring spirit of nature.