In early March 2019 a Buddha head in stone was recovered from Vellilapally near Ramapuram and Amanakara in Kottayam district of Kerala. It was found while the workers were making a stone wall. It was part of an older wall. There is a Dhammasasta shrine nearby. This place is called Pallykandam or the field of the Pally or Vihara in Vellilapally village. Vellilapally was the original name of the whole place now known as Ramapuram. Brahman settlements came up durng the middle ages.
A similar life size Buddha sculpture in seated posture with broken hand was recovered earlier from the same spot in Pallykandam in Vellilapally and is currently on display in Trissur archeological museum.
The head seems to be part of a similar life size sculpture. It alone is more than one feet in height. The long earlobe and Ushnisha or hairdo is clear that are characteristics of the Buddha sculptures. It is broken in the back and was probably connected to a larger sculptural unit with hallow like paraphernalia as the background or pedestal. In hairdo it is similar to the Buddha at Kayamkulam Krishnapuram palace museum. The resemblance of Gandhara and Kalinga styles are visible. It may be related to C E fifth or sixth century like the ones at Trissur and Kayamkulam museums. The facial features are obscured in long tear and wear underground or badly mutilated so that it is unnoticed.
It was recovered and taken to the Hill Palace Museum at Tripunitura by Kerala Archaeology Department. It must also come to display with the correct tags at the earliest. The recently discovered Boddhisatva idols from Ponjasery in 2015 and Avittatur in 2014 taken by Kerala Archaeology Department are not yet displayed and are lying hidden in the stock room. It is now evident that Vellilapally and Kottayam district in particular was an important cultural location of Buddhism till the middle ages. Place names like Amanakara, Marangattupally, Pandapally etc are proving the presence of Amana or Sramana missionaries and their educational establishments like Pally and Pallykoodam.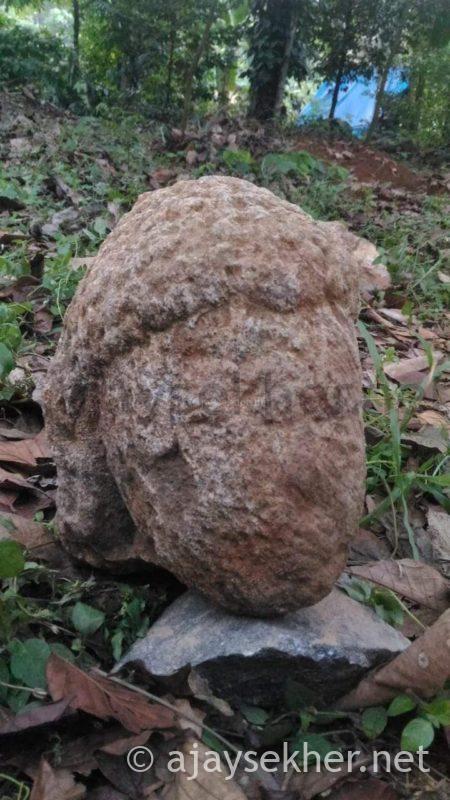 Vellilapally Buddha at Pallykandam in early March 2019. See the long earlobe and the erased or mutilated face.