The World is One Family, an art show at Alapuzha that began in April 2021; curated by Bose Krishnamachari the leading artist and curator, and one of the pioneers of the Biennale movement in Kerala is a dexterous and detailed depiction of contemporary art in Kerala. Five heritage monuments of the colonial era in the city in and around Vellapally suburb are renovated to feature the vibrant and diverse expressions of the young artists of Kerala in an ingenious way.
After the success of the Kochi-Muziris Biennale, the artful curator and his team have moved south to Alapuzha or Aleppey to bring the art world's focus to this old port town by the Arabian Sea. History, culture, society, heritage, and art are brought together in an unprecedented and illuminating way here.
It is a truly contemporary, futuristic, and commendable act in the pandemic for the artists and the general public. The Kerala Government that is part of its organization must step in to make it more useful and popular with the local people of Alapuzha. Because of the lockdown, the public entry is restricted now. The opportunities to open it up for the people are to be devised and materialised.
At the same time, it also raises many questions on the representation, presentation, inclusion/exclusion, and showcasing of art in a democratic world, especially in the context of historic over-representation and gross monopolies in art, culture, academia, media, public service and politics in Kerala by the historically advantaged elites. The very concept and keyword of Taravadu is a contested category as it is derived from the elitist high culture of Kerala often notorious for social exclusion, power monopolies, and subtle and invisible casteist hierarchy operated in aesthetic sophistication and clinical precision.
As the elite exclusionary culture is often associated with the notion of the safe soil and reinforced raised ground of Tara and Tarakkoottam or Taravadu the people's culture is often associated with toponyms and geo-cultural tags like the Chery or Pally that are keywords of culture in the whole of South India, derived from ancient Pali and Tamil, dating back to the Sangam culture and Asokan missionary age the foundation of Kerala's composite culture. The very part of the city that houses the old Coir Corporation buildings is known as Vellapally the ancient seat of a white Vihara like Kadakarapally to the north associated with Itty Achudan Vaidiar. This enlightened people's culture has recreated the modernity and renaissance of Kerala in the wake of European colonial intervention in the 19th century.
Art practice, performance, and art curation need to be more egalitarian, ethical, inclusive, compassionate, and sensitive to the cultural history and regional manifestations of culture at the grassroots levels. The micro-politics of culture must be reflected in art and its representations.
There are multiple works by women artists on the politics of gender and gender hierarchy and inequality from the context of Kerala, that are to be appreciated. But that much intensity or accent is not given to the much more entrenched issue of social hierarchy and caste inequality which is the rooted form of hegemony and violence in India and Kerala, when caste walls, wells, schools, roads, and even brutal caste killings are coming back as in Kevin Joseph murder at Tenmala and Aneesh at Tenkurisi in Palakad in recent times.
In a state where even daily waged working women are able to hurl casteist abuse at an aged and male Chief Minister in public as in the infamous episode of Mrs. Mani Pilla abusing Mr. Pinarayi Vijayan with a casteist slur in public on camera during the 2018 Sabarimala Viswasi riots; we must realise and address the crucial issue of caste and its material and symbolic violence in art and politics in truthful ways. It proves that caste is much more deeply inscribed in the body politic of Kerala and India than gender or class.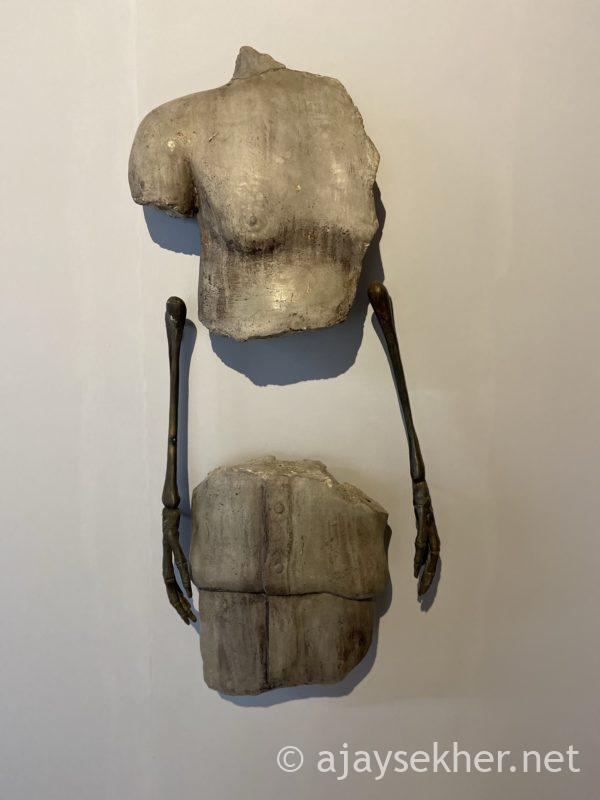 Such pertinent and rudimentary socio-cultural and political issues are to be represented in an art that is socio-politically sensitive, egalitarian, and democratic. Such awareness of the world makes it worldly and compassionate. Art gains transformative powers and values in society only through such a keen sense of truth and justice rather than mere cliched aestheticism and esoteric idiom.
Anyway, it is a great effort and opportunity and a creative beginning for the aspiring and practicing young artists of Kerala, who are working locally and also globally in myriad ways for a more wholesome and brave new world. Salutes to Bose and his team for this visually engaging act of worldliness and compassion.
Dr Ajay S Sekher
ajaysekher@gmail.com +919895797798