This mountain top rising up to 1000 m above sea level at the border of Kottayam and Iduki districts in Kerala is the site of rare geographical wonder. It still houses an ancient check dam or Chira on the top of the grasslands sprawling on three mountain peaks and their joint summit called Mankunnu, Kodayatur Mala and Tonipara. In place names Chiras are associated with ancient Buddhist water management. This is called Elaveezha Poomchira or Ilaveezhapoonchira the floral pool or small dam; where leaves do not fall into it as it is on the grassland top of the mountain. The shola forest patches are there in the crevices and creeks of the mountain grass tops just below the grassland shola peaks.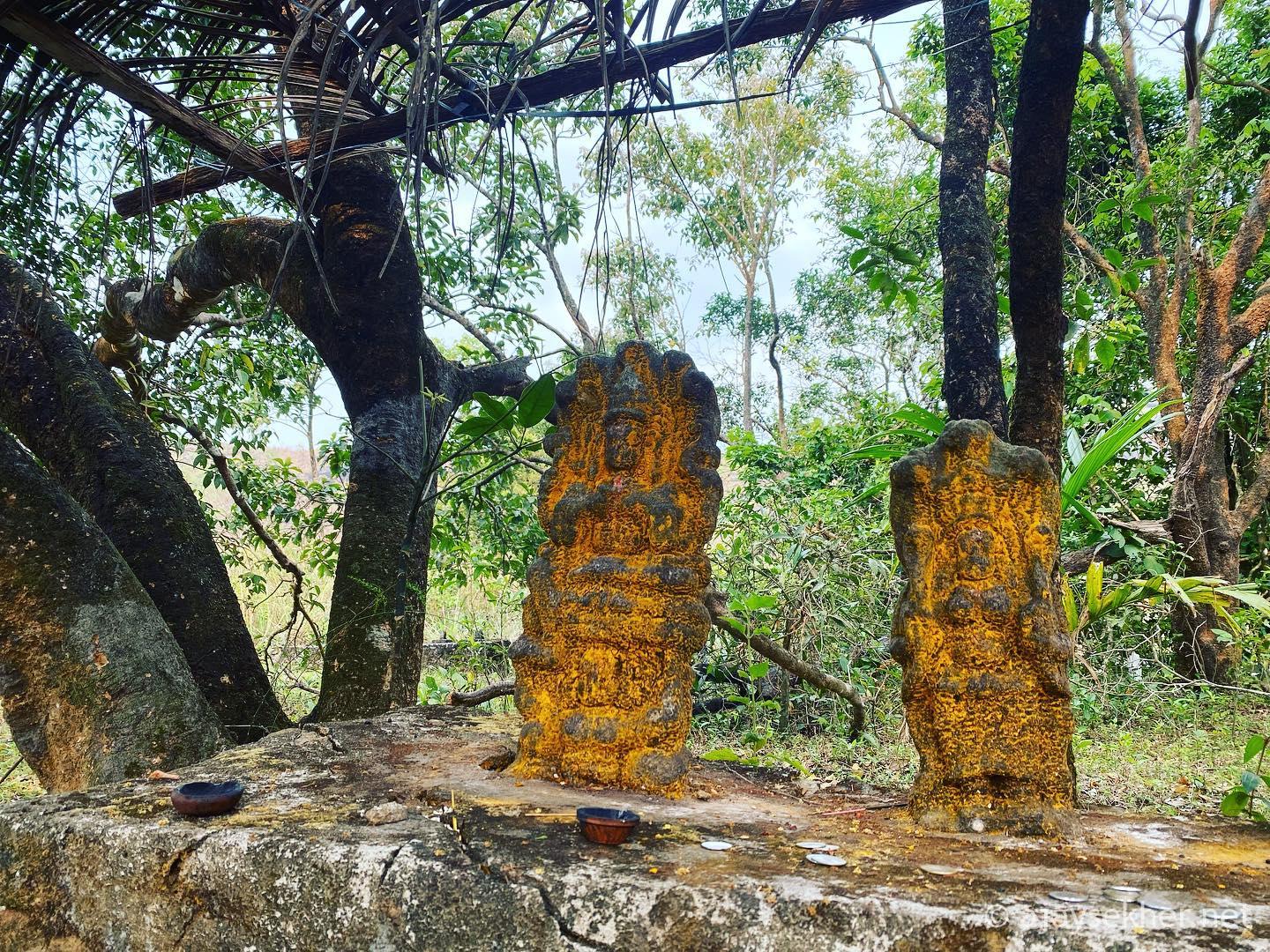 There is a sacred grove shrine by the small floral lake or Poomchira. There are ancient Naga deities in granite by shola trees. Buddha as Naga Appan or Nagaraja Boddhisatva and Mahamaya as Naga Yakshi are still seen in Hinduized ways there by the trees. There are also ancient crude rock votive stupas nearby. The small pagoda is now dedicated to the fierce Hindu goddess Kali and the shrine is now called Kali and Krishna "temple." Such fierce modifications might have happened in the late middle ages when the ancient Keezhmalai Nadu was annexed to Vadakumkoor in the early seventeenth century and subsequently to Travancore in the mid-eighteenth century.
This mountain peak is some 20 km from Todupuzha the capital of Iduki in the plains; it is some 50 km from Kottayam. Now a new road is being built linking it from Melukavu and Todupuzha. Till the early seventeenth century, this was part of the ancient Keezhmalai Nadu and place names like Muttam, Kodaytur, Koovapally, Elapally, Pallykanam and Ellykal Kallu etc. show ancient toponymical linkages to Buddhism as there are many Pallys or modified place names here. Muttam and Vattam represent the well-rounded stupa of Buddhism. Relics of ancient stones and menhirs and stupa-like worshiping stones also prove the archaeological presence of Buddhist cultural relics here.
Ellykal Kallu or Illykal Kallu is also said to be a later modification of Pallykal Kallu as Pallykanam is now changed into Pullykanam misusing the British English spelling as in Pullyvasal in Munnar. It must be remembered that such ancient bunds and dams using rammed earth are still surviving in Achan Kovil forests and Kulatupuzha forests near ancient Kattilapara or carved rock vestiges associated with Buddhism. The proximity to Pallykanam and Vagaman and the closeness to Moolamatam and Kodayatur are also linkages to the ancient trade-cultural routes between Chera and Pandya lands. The presence of Mala Araya tribal people closely associated with the Buddhist shrine of ancient Chavarimala or Savarimala now Ramafied as Shabarimala is also remarkable.