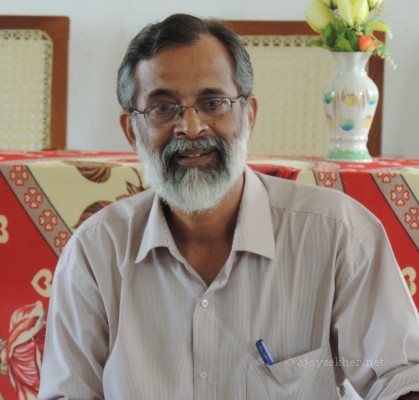 Prof I Shanmughadas is well known to each and every film buff of Kerala.  After his illustrious teaching career in various Government Colleges as a distinguished professor of English across the state, he is continuing his life long engagements with films and pedagogy.  His cheerful talks and subtle deliberations engage people of all ages and orientations irrespective of the region.  He has been a popular voice of the film society movement in Kerala and has been enlightening the rural audiences and common people for decades now.
He came to the Tirur centre of S S University of Sanskrit to inaugurate the film club on Monday the 6th of January 2014.  It was the young students who took the initiative to bring him to the rural regional centre.  Prof Shanmughadas was kind enough to take a long class for M A English students after the inauguration ceremony.
In the three-hour-long lecture and interactive session he talked about world cinema and Indian cinema.  He was also touching upon the theoretical perspectives and critiques of cinema especially Laura Mulvey and the feminist critique of narrative cinema.  The deeply engaging and individualized speech and conversation of Prof Shanmughadas was an illuminating experience for the students and the academic community in general.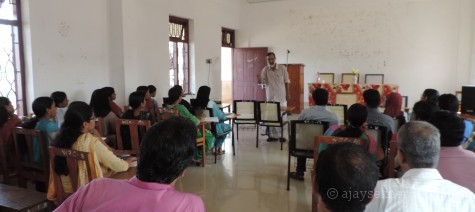 Prof Das teaches us to be intelligent and sensitive viewers of cinema and the world that produces it.  His talks also prompts us to read and substantiate our viewing with analytical and meditative thought.  The unique interest and engagement with the visual and the keen critical acumen and passion for critical analysis with a foregrounding of the experiential and the ontological seem to be instructive and enlightening.  His precarious balancing of the aesthetic and social dimensions of the film and the literary texts forms a model and motivation for the young students.  Let this talking and walking buddha of the films come to our doors again and again…