Yesterday 2nd october 2013 I visited Chavakad Tiruvatra Puthan Kadapuram  with Satish K V and found an early group of big gulls and Lesser Sand Plovers wintering on the coast of central Kerala.  Some Sanderlings are also mixed with the Sand Plovers. In the second week of September itself I saw the first Marsh Harrier at Karakad north of Shornur while traveling by train.
The big gull group of around 100 individuals at Tiruvatra beach consists mostly of Steppe Gulls.  We reached Tiruvatra Puthan (rustic for Buddhan) beach in the morning.  And returned through Palayur, Guruvayur, Enamavu Kol to Thrissur. Tiru prefix also attests the Buddhist past of the coast.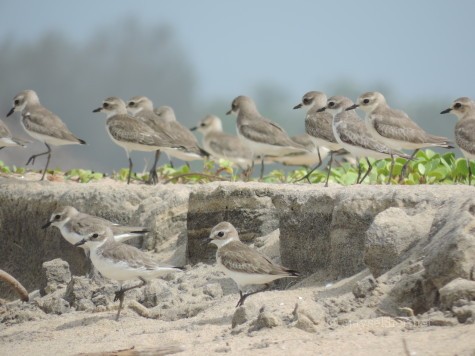 One small Pratincole was seen at Chavakad.  A few Common Sandpipers and a small group of Glossy Ibises were also seen in Enamavu Kol.  Blue-tailed Bee-eaters and Whiskered Terns were also plenty in the Kol wetlands.