About Me
Hi, I am ajay sekher (Dr Ajay S Sekher to be officially complete!).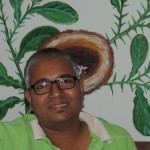 I am from Kerala, a small peninsular state in south India. I teach, research, write, translate, paint and photograph. I like music and traveling. I also like to ride my bike quite a lot as I like fresh air, flight and freedom.
I was awarded Ph D in English by M G University, Kottayam in 2007.  My critical essays and translations have been published in leading Malayalam and English journals in my state and country, including The Economic and Political Weekly, Indian Literature, Mathrubhumi and Bhashaposhini.
My Doctoral Thesis deals with the representation of caste and gender issues in Indian fiction written in various Indian languages and in English.  It was done with Prof. P P Raveendran of School of Letters.  The work is titled Representing the Margin.

My recent published titles iclude:
— Representing the Margin:  Caste and Gendre in Indian Fiction. Delhi:  Kalpaz/Gyan, 2008. (at Google Books)
—  Unknown Subjects: Songs of Poykayil Appachan.  (Trans.)  Kottayam:  IPRDS Studies, 2007.
—  Writing in the Dark:  A Selection of Dalit Poetry from Malayalam. ( Trans.)  Mumbai:  Vikas Adhyayan Kendra, 2009.
—  Irutile Kali. (Trans. of Toni Morrison's Playing in the Dark.)  Pathanamthitta: Prasakti, 2007.
—  Samskaram, Prathinidhanam, Prathirodham:  Samskara Rashtreeyathilekkulla Kurippukal. Mavelikara: Fabian, 2009.
—  Neelimayeriya  Kannukal. (Trans. of Toni Morrison's The Bluest Eye)  Kottayam:  D C Books, 2009.
—  Sahodaran Ayyappan: Towards A Democratic Future.  Calicut:  Other Books, 2012.
I have done group and solo art shows in Kochi, Thrissur, Chennai and Kottayam.  I have been guest lecturing on literary and cultural studies at various university departments and colleges in Kerala from 2002 onwards,  including School of Letters, M G University and S S University, Kalady.  Served as Assistant Professor of English in Government Colleges at Thrissur and Kasaragod from 2010 to 2012. From 2012 April to 2014 June I was teaching at the  English Dept at the  Tirur Centre of S S University situated in Tirunavaya, Malapuram as Assistant Professor. From June 2014 onward I am teaching in SSUS main centre Kalady as Assistant Professor of English.  My academic writing samples are available on academia.edu:
http://gck.academia.edu/AjaySekher
See my talk at EFLU Hyderabad.
Let me express my deep gratitude to Arun, my brother for materializing this site.  He is behind the concept, design, developing and sustenance of this site.  By profession Arun is a practicing physical therapist and an independent researcher in his discipline of physical therapy and health care practices.  He is also the founder of the physiotherapy web community portal named Physioblasts.Org.
My mobile: +919895797798
Email:  ajaysekher@gmail.com
Permanent Home Address:  Akhila, Gandhi Nagar P O, Kottayam, Kerala, India   686 008.